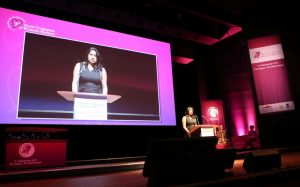 Iffat Rose Gill
A much experienced international NGO leader-activist, digital strategist, and social entrepreneur with more than 10 years of experience in the non-profit sector. She is the founder of ChunriChoupaal, an organization that empowers women leaders through modern information and communication technology (ICT) and digital literacy. She developed The Code To Change, a five-month mentoring program designed to inspire and teach women important skills to succeed in the digital world and job market.
Iffat specialises in the economic empowerment of women's initiatives and campaigns, having been at the forefront of shaping the policy debate of women's digital inclusion for close to a decade, both in Pakistan and on international platforms. She aims to provide social and economic empowerment training to women, via online learning platforms for digital inclusion and the retention of women in technology and science, technology, engineering and mathematics fields. She has advocated for the issue at the UN's World Summit on the Information Society (WSIS+10 and WSIS 2015), UN's Internet Governance Forum and European Parliament.
A highly effective manager and strategic planner, her strengths include analytical and creative thinking, in addition to strong interpersonal and communications skills.
Her project Community Technology Center for Women won the Syster's Award from the Anita Borg Institute. (This serves as a training and capacity building initiative for the social and economic empowerment of women in remote areas of the world.)
Iffat's business venture Gill Nonprofit Consulting offers consulting, training and coaching for entrepreneurs, nonprofits and SMEs in the use of digital media and social fundraising.