I am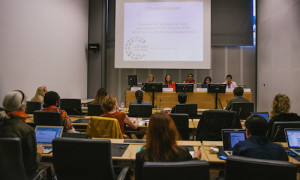 happy to share that we presented the results of our 'Work To Equality' campaign at the World Summit on the Information Society- WSIS 2015 in May in Geneva, Switzerland.
The session looked at different experiences of organizations that are working for gender equality, both internally and externally in their organizations. With these different visions and programs, we will have a better insight about what can be done to achieve #WorktoEquality. This workshop generated a debate to raise awareness and to collect possible suggestions and solutions for addressing the issue.
The panelists included Mine Ogura, head of Work To Equality campaign, Monique Morrow-Cisco, Cheryl Miller-Verizon, Catherine Mesot-Catalyst. Remote panelists included Rifat Arif- Young Digital Leaders, Hanna Luden- consultant and Miriam Tocino- Amsterdam Women in Technology and I had the honour to chair the workshop.
Details of the workshop can be seen here and recording can be viewed here.