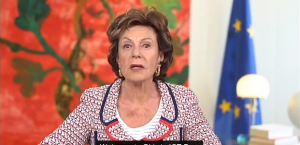 The International Girls in ICT Day is being celebrated globally this year today, on 24 April 2014. The purpose of celebrating the International Girls in ICT Day is an effort to provide an opportunity to empower and encourage girls and young women to consider studies and careers in the growing field of ICTs.

On the occasion of #GirlsInICT Day 2014, EU Commissioner for Digital Agenda, Neelie Kroes has released a video urging women to take part in the campaign digitally. Here is a summary of her Video message:
Speaking about the importance of digital tools that are taking over our world, Neelie Kroes stresses on how important it is for women and girls to take advantage of the unlimited potential these tools offer and the limitless opportunities and achievements it can help provide. "This is a cool new opportunity for every woman too. Working in tech is also exciting, rewarding and great fun! Learning to program or code is a new life opportunity.  In the digital age, it is like knowing how to read, write or do maths. Whatever your dreams are, digital skills will help you achieve your dreams and it is also increases chances for you to get employed," Ms. Kroes said.
Speaking about how digital literacy can be achieved and what women and girls can do to achieve this is by learning new skills. Everyone should learn to programme or to code. Ms. Kroes is of the opinion that digital skills should be taught in schools. She also urged women working in Tech to step forward and be role models for girls and young women.
"I know role models matter to young people. Young women- just like young men- are inspired and empowered by the people they see around them. From successful super-entrepreneurs who just happen to be women. To the cool neighbor or family friend working for a tech start-up. This is the key to unlock our talent." Neelie Kroes added.
If you are a woman in Tech-or if you have a story to tell about women in tech-then share it! Make a video and post it to the Facebook page of Every Girl Digital so that others can learn from your experience and be inspired!
The Girls in ICT initiative at ITU is a global effort to raise awareness on empowering and encouraging girls and young women to consider studies and careers in ICTs. The International Girls in ICT Day, celebrated on the 4th Thursday of April each year. The force behind this initiative is the radical changes in the ICT sector and consequently, the job market which has opened doors to new employment opportunities. Given the number of women in ICTs, it is important to encourage girls and young women to consider ICT studies and careers. Raising awareness about it will increase interest in opportunities for using creativity and intuition in fields like software application design, digital media, and social and mobile applications. It will help to fulfill an important dimension of the corporate social responsibility as well as be in line with the United Nations Millennium Development Goal 3 to promote gender equality and the empowerment of women.
This story was written for World Pulse's Women Weave the Web Digital Action Campaign.