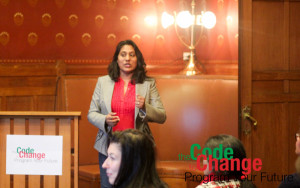 The 3-day Code To Change e-Skills bootcamp and conference in Amsterdam just blew our minds! It was an amazing experience to lead this three day event for bridging the digital skills gap in connection with the European Code Week 2015.
The event introduced participants to e-skills and different fields of technology industry. This initiative was brought to the public by ChunriChoupaal's leaders and sponsors on a volunteer basis, through the shared belief that women deserve to have their talents developed and to achieve economic independence and that employers deserve to benefit from the full range of skills humanity has to offer.
The energy, the passion, the drive and dedication of amazing participants, the wonderful mentors, volunteers and speakers; We are in awe. Thank you for a wonderful journey of learning, teaching, debating and helping each other to make steps towards empowerment. Thank you to all our supporters!
For details on the event, please see the Code To Change project page.