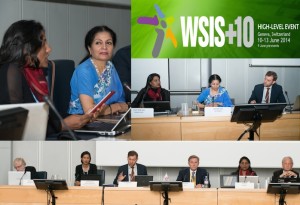 I am happy to share that I presented the perspective of grassroots level women leaders from World Pulse community of 60,000, at WSIS+10 High Level Event this month. The interventions emphasised on the need for inclusion of more women in the global information society to accelerate their social and economic situation, especially in the developing countries. This current 'gender' digital divide calls for more advocacy efforts to enable women's access to technology, capacity building opportunities and hence, inclusion in global work force. The success of the interventions can be seen via the following statement which was included in the outcome document following our recommendations to the event:
"We reaffirm the importance of promoting and maintaining gender equality and women empowerment, guaranteeing the inclusion of women in the emerging global ICT society…We are committed to ensuring that the Information Society enables women's empowerment and their full participation on the basis of equality in all spheres of society and in all decision-making processes." – A statement included in the World Summit on the Information Society-WSIS+10 High Level Event Outcome Document, Geneva 2014!   
I had the honor to be part of two workshops at the WSIS+10 Event in Geneva, with co-panelists from UN Women, Intel and International Federation of Library Associations and Institutions (IFLA). I chaired the World Pulse workshop: "The Power of Digital Media – Bringing Women a global Voice." I was a panelist at the IFLA Workshop: "Conquering the Digital Divide: How public access to ICTs supports development in the information society."
The World Summit on the Information Society (WSIS) was a pair of United Nations-sponsored conferences about information, communication and, in broad terms, the information society that took place in 2003 in Geneva and in 2005 in Tunis. One of its chief aims was to bridge the so-called global digital divide separating rich countries from poor countries by spreading access to the Internet in the developing world.
You can watch the video of the panel here.