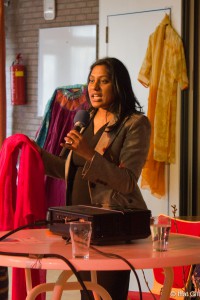 Recent Events:
Chair: World Pulse Workshop: The Power of Digital Media-Bringing Women a Global Voice at WSIS+10 High Level Event at 9th of June, Geneva, Switzerland.
Panelist: "Conquering the Digital Divide: How public access to ICTs supports development in the information society." By International Federations of Library Associations and Institutions (IFLA)
Speaker: "Influence on Clothes and Women Empowerment in Pakistan" Women Day Gemeente Amstelveen/Vrouwenplatform Event on March 8th, 2014
For speaking engagements:
Please send me a mail on the form below with the subject line: "Request for Speaker." I will follow up with you as soon as possible. Please make sure to include the specific topic, date, time and location of the event and the expected number of audience. Please allow at least four to six weeks for planning. My working languages are English, Dutch and Urdu.