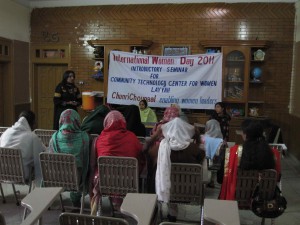 During one of  my visits to Pakistan, while on a visit to remote areas in the Thal desert of Pakistan, my life took a very interesting turn.
I was documenting the demonstration of student nurses and taking photographs of the chador-clad women sitting in the middle of the road, a rare sight in a remote city like Layyah. Some days later, a few young ladies came to visit me. One of them was Rashda, a fresh graduate from the local college. She had been interviewed for a job at a local relief organisation. The organisation needed female staff for helping out with their female beneficiaries. The only problem was that they needed someone with computer and internet skills. Rashda asked me if I could teach her how to use the computer for data entry in a day.
I was perplexed as I had a laptop but I had no time to teach her. At the back of my head, I knew this could be a life-changing moment for Rashda as no woman in her family had the opportunity to have an education or a career before. Not getting a job would mean she would soon be arranged to marry a (probably first) cousin from the next village up and spend the rest of the life as the property of her husband or in-laws and would be expected to make lots of children.
Not too long after that, I stumbled upon an opportunity for seed-funding of small technology related projects. I was very sad for not being able to help Rashda at that point. I wasted no time in designing a project and mobilising local women leaders, to empower young women of Layyah and neighbouring villages through a 'women community technology center.' Even though the project was welcomed by women from all walks of life including health, education and government sector, the six months it took for arranging things had been too late for Rashda. At the launch of the centre, with help from local women, Rashda did not show up for our inauguration event. I asked for her. Her older sister told me that she was married off to her cousin. To this day when I think of the incident, it feels like I lost a huge opportunity to make a change in a young girl's life!
But that is not the end of this story.
Let's take a closer look at the surroundings of Rashda and what stopped her from learning skills she needed for better opportunities in life. Pakistan is an agriculture based economy and more than sixty percent of the population lives in rural areas. Half of Pakistan's population is women. Small cities like Layyah, and many other cities like it, share its modest available economic, health, educational and social welfare services with approximately 1,000 nearby villages. Rashda also came from a nearby village. The women in these villages are amongst the most under-privileged and oppressed groups with no freedom of movement or speech. They are forced to stay indoors and cannot be seen in public without their faces covered. Young women who manage to get an education often do not become part of the workforce due to social and cultural barriers. And if they manage to overcome those, they face gender discrimination in the job market.
The problem in Pakistan and other remote parts of the world is not only the physical access to the technology and infrastructure. The challenge is also the access to knowledge to implement and utilise such technologies through training, mentoring and technical support. The few women like Rashda, who manage to get access to education, do not become part of the workforce. In most countries, especially in rural and sub-urban areas, this is often due to a lack of access, knowledge and skills to use modern information and communication technologies.
These women would not be allowed to go to a male teacher in the market to learn professional skills, due to social and cultural barriers. Since there is no training center specifically for women, it leaves them with hardly any choice but to "choose" not to work. The few internet cafes that exist are predominantly frequented by males and have no training facilities available. Females cannot even imagine going there as the security and safety risks would outweigh any benefits they can get from Internet cafes. It is very uncommon to have a personal computer at home, and even less people have an Internet connection, so they have to look to alternative solutions for learning.
Women are socially and culturally barred from going to male-only places, which made the solution obvious. Why not begin a female-only technology centre where the local women can come and decide what they want to learn. Through the networks of the women and sympathisers, teacher for different skills can be arranged. The idea was welcomed by the women of the community. In no time we managed to fund-raise for equipment, found a venue, and also managed to find a local teacher who was willing to volunteer her time for the facility.
The challenges were many. But the fact that the project got the interest of women from all fields of life, was amazing. We got nurses, professor, students, teachers; most of whom told us that computers were taking over tasks in their workplace but they had not had the chance to learn about these technologies.
The small pilot project gave me an idea to start an initiative for women around the globe to have access to technology. My initiative is ChunriChoupaal. A chunri is a brightly coloured scarf worn by women in South Asia. A choupaal is predominantly a sitting place where village elders (men) make decisions for the community members. A ChunriChoupaal Center is meant to provide a meeting place for future women leaders and change agents to come together, discuss their issues, learn and share skills. The main purpose of these centres is to provide an enabling environment for women to learn, work and meet other women. The project has received positive feedback from women around the world. We have created a non-profit organisation in the Netherlands and we are currently in the process of creating a fundraising group for the project. We have also started creating a global curriculum which can be used and modified according to a community's local needs.
I feel I am at a unique position to start this initiative as I originally come from a rural background myself. I was lucky to have access to technology, enabling me to learn skills to use the computer and the internet. With the skills learned and connections and networks built, I ended up representing my country (Pakistan) at international forums like the UN's Internet Governance Forum and highlighted the problems of young people in my community. With the network build over the years through the internet, my unique position of being connected to amazing group of women and organisations is giving me the strength to help other women leaders expand their horizons and unlock their potential by harnessing the power of digital media. I may not have been able to help Rashda, but this project will help many others like her.
This story was originally written for World Pulse's Women Weave the Web Digital Action Campaign.