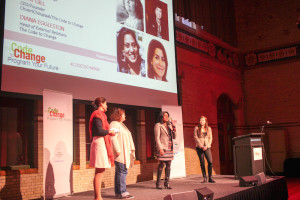 The Code To Change 2016 (kickoff for the mentoring program) was back with a bang this November! The speaker line-up fr the second edition was even more amazing than last year! Over 20 Tech leaders and emerging leaders from across the industry shared their stories and journey into the IT sector. The topics included security, big data, high performance computing, design, sharing economy, art and tech, Artificial Intelligence, social media, digital marketing.
The talks inspired our participants (and graduates Code Newbies from the Code To Change bootcamp) to pursue their dreams and learn new digital skills in order to join the technology sector.
Please take a look at the Conference description here.
For conference programme details, see here.
To catch a glimpse of the excitement at the kickoff, take a look at our short video of The Code To Change bootcamp
Watch highlights from the Code To Change conference 2016 here!